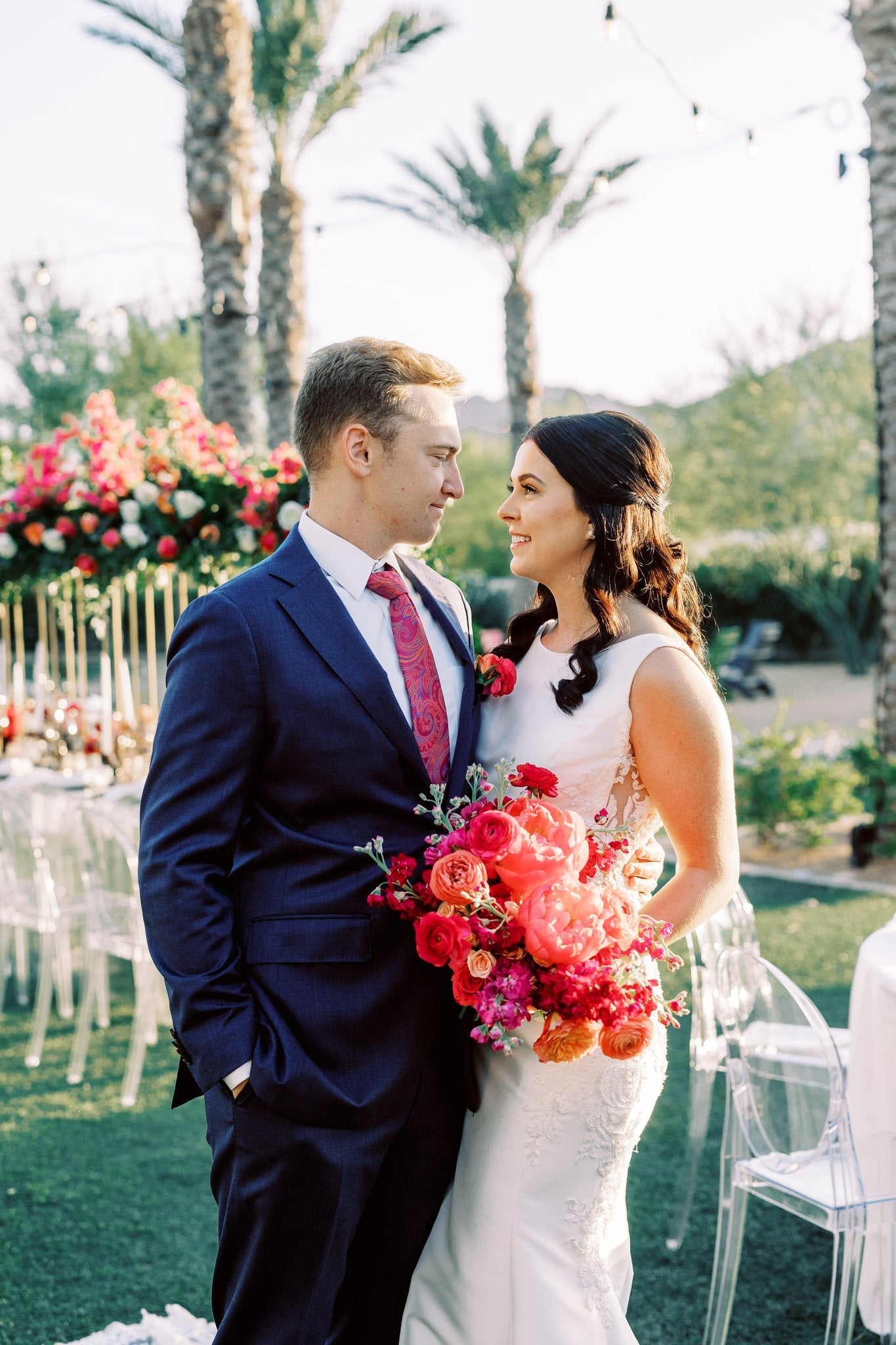 Vibrant Wedding Floral Editorial
 Incorporating bold vibrant colors through wedding floral design can add a touch of elegance and create a visually stunning atmosphere. For this editorial, we included bold and vibrant hues while maintaining a sense of sophistication and luxury. 
"Color is a power which directly influences the soul." ~Wassily Kandinsky
Bold vibrant colors, such as vivid pinks and brilliant oranges, can bring life and energy to your wedding floral design. These colors evoke a sense of joy, passion, and celebration. A bold bridal bouquet is very impactful. It's the perfect accessory to carry down the aisle and forever be showcased in your wedding photos.
Vibrant & Memorable Ceremony Location Wedding Floral
It's important to consider the outdoor space of your venue, as well as the surrounding decor, to ensure that the colors are beautifully showcased. Things to think about are what colors are in nature in the outdoor area? Are the greens bright or more muted? Are there any flowers or trees that have colors that would compete or clash with the wedding floral?  We also think it's key to repurpose the ceremony floral elements into the reception so that the beautiful wedding floral can be enjoyed throughout the entire evening. Recommended places are near the head or sweetheart table to make it even more focal and impactful. Some other great spots are near the cake table, in front of the band or DJ.
Daring Wedding Floral Reception Details
To maintain an elevated and unique look in the wedding floral design, it's crucial to strike the right balance between bold and vibrant colors and some grounding neutrals like in this design, black and white. Using bright colors as focal points against a backdrop of neutral or pastel tones can create a harmonious and balanced aesthetic.
Selecting premium flowers is key to achieving a luxurious look. Here we used peonies, roses, and ranunculus known for their lush and vibrant petals. These blooms exude elegance and opulence and elevate any wedding floral design arrangement.
Incorporating different textures and layers adds depth and dimension to your wedding floral design.  This creates a sense of movement and interest, making your arrangements visually intriguing and luxurious.
Remember, with the expertise and care of a seasoned event florist, your wedding will be graced with unparalleled elegance, style, and sophistication. So, celebrate your love story by embracing the beauty of bold and vibrant colors in your wedding floral arrangements and watch as your special day becomes an unforgettable experience for all.